99 Word Review: Law & Order: SVU
Which is your favorite Law & Order franchise? There's one for everyone, although the highest rated of the three doesn't exactly qualify for family-hour viewing. Here's the Geek-In-Chief's 99 Word Review of Law & Order: SVU.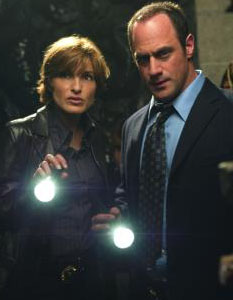 As a fan of the Law & Order franchise, I often forget the shows aren't interchangeable. Sure, they all have the crimes, the process, the Clunk-CLUNKS. But on SVU, the crimes are uber-heinous and ultra-depressing: rape, incest, child molestation. The officers also regularly break a key L&O rule, relating personal history to their cases.
The show is well-written, with a great cast (especially the hott Marishka Hargitay). But it's just too... icky, tallying more cringes than Clunk-CLUNKS. It's often impossible to last the episode without searching for razor blades or cyanide.
And to me, that's not all that special.
TVGS Rating: 2.5 test patterns (out of 4)
Law & Order: SVU
airs Tuesdays at 10pm et/pt on NBC.
Back to TVGeekSpeak.com