The Friday "Eff-Off:" The Golden Girls
Everybody loves The Golden Girls, right? Wrong! Uncle Buster never got the joke- and still refuses to watch this comedy classic. Here is his 99 word rationale in this week's The Friday Eff Off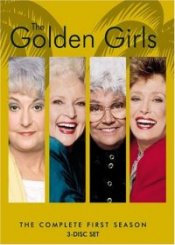 For starters, this show mostly runs in syndication on Lifetime, which is more than enough reason for me not to watch. No self-respecting male watches anything on Lifetime.
Geriatric humor usually struggles. A kid throwing food all over is funny. An old person doing the same thing? Unfunny.
Betty White never had any jokes other than something about her stupid hometown. I don't know which writer thought making Rue McClanahan a sex object was a good idea… probably the same one trying to pass Bea Arthur off as a woman.
If these are the "Golden" years, I'll take the silver.