CNN's American Morning: "We Don't Do Windows"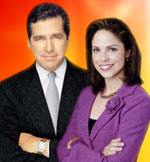 Citing overuse of morning show streetside studios, CNN's
American Morning
is ditching theirs to move into the network's newsroom at the Time Warner Center
.
The new, windowless version of the show, which recently axed Bill Hemmer and replaced him with Miles O'Brien, will launch Aug. 22.
It's the latest shakeup for
Morning
, which last month replaced Bill Hemmer with Miles O'Brien, who now hosts with the unrelated Soledad O'Brien.
"There are five other morning shows on that look exactly the same," said CNN's U.S. president Jonathan Klein. "Our morning show is clearly a newsy alternative."