Primetime Live Ready To Rock American Idol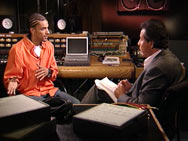 Whether it's sour grapes, classic investigative reporting, or something in between, ABC's
Primetime Live
is about to step up to the mike and start belting out some juicy stuff about
American Idol
.
A former contestant is alledging that
Idol
judge Paula Abdul
provided him with off-camera tips and assistance while he was a contestant
- even helping him select some of the songs he would sing!
How will it effect TV's top show? Will Paula be forced to up her meds to cope? Stay tuned!